"One can imagine regional theaters full of audiences screaming with laughter." – Variety
RATED P is a show for parents … and anyone who's ever had them.
---
Music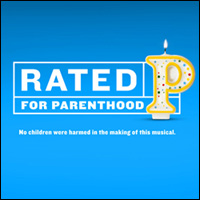 Here are some samples from the cast album of RATED P.
To purchase the RATED P cast album, featuring Broadway stars Courtney Balan, David Josefsberg, David Rossmer & Joanna Young  – click here



Sheet music from RATED P will be available for download soon!
---
Script
Rehearsal tracks for all of RATED P's musical numbers are available for licensing.
Rated G alternatives to RATED P's Rated R moments are available.
Opportunities to insert local flair and flavor into the RATED P script are available.
Please contact info@miracleor2.com for details.
---
Visuals
To license the original artwork from the Off-Broadway production of RATED P for your production's marketing purposes, click here.
RATED P includes video elements, all of which are available for licensing as a pre-produced package.